Preciado et Sepulveda à Genève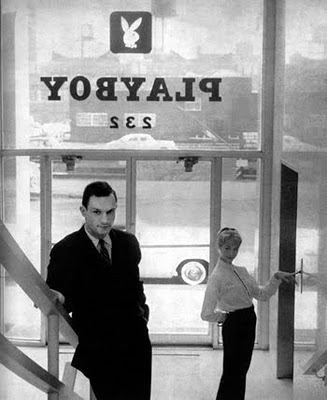 Elles viennent de très loin mais font un stop chez nous: Beatriz Preciado et Katia Sepulveda exploratrices de l'utopie érotique du magazine Playboy. La première étudie dans son dernier ouvrage intitulé "Pornotopie" cet empire industriel de loisirs sexuels en analysant les rapports entre architecture, technologie et sexualité. La seconde interroge les mécanismes du premier bordel multimédia capitaliste à travers des collages. Leurs travaux se croisent et se répondent.
Les bureaux de l'émiliE étant petits et encombrés, c'est au Broom qu'elles feront le vernissage de l'exposition Domestic Dispositive. C'est en effet d'espace privé et de son réaménagement post-domestique pour homme célibataire urbain dont il sera question. L'exemple de Hugh Hefner, fondateur de Playboy, précurseur de nos formes modernes de mise en spectacle de l'intimité, vivant couché dans son lit rotatif d'où il exerçait son pouvoir, entouré des Bunnies, sous le regard des caméras, a inspiré bien des concepts de télé-réalité et de réseaux sociaux. La théâtralisation de l'hétérosexualité vous pose question?
Assistez à son décorticage en live avec des spécialistes.
Mardi 6 mars à 19 h
Conférence  Beatriz Preciado
Vernissage exposition "Domestic Dispositive" Katia Sepulveda
A Chronological research of Playboy Magazine that deals with themes like genre, sex and architecture as a project of subjectivity production of pleasure as a conventional whorehouse.

Broom- Social Club Database 59-21 boulevard Saint George 1205 Genève
www.broomers.ch/ <http://www.broomers.ch/>
Photo DR, Hugh hefner, à l'origine du concept du penthouse, "refuge en ville pour homme célibataire"